It's Valentine's day!!! Ladies, valentine's day is not just about receiving; it's also about giving. It's a chance to show your man you love him – and trust me, he'll appreciate it just as much as you appreciate him planning a date night and/or getting your flowers and candy.
Now, if you didn't get your guy something don't worry. It's not too Late! Here are some last minute things you can do / buy / whip together to show your baby you care and he's the most special person in your life.
Experiences
1. Paint and Sip Classes – They are all over the country so I'm sure you can find a class. They now even have classes where you can paint mugs or vases instead of a canvas. Most classes allow you to go rogue so you can skip their paint by numbers art and just decide to draw something special for each other.
2. Escape the Room – Also located all over the country, these game are super fun and you have to work together to escape. if possible, try to get a private room for just the two of you!
3. Lessons – Does he have a hobby or something he has always wanted to do? Swimming, soccer, trivia? Find one of those social clubs and gift him a 8 – 12 week package. You'll be helping him grow and what man doesn't love a woman who wants to help him grow?
4. Cook or Bake for Him  – Fill it with love (and make sure it tastes good) and you can't go wrong with a home cooked dinner or home baked dessert. If you opt for the later, make your treat personalized by adding his name and hearts with frosting. If you opt for the former and are in need of a good recipe, hit up blue apron's website and view the top favorite meals.
5. Give him a massage – No, you don't have to book him a spa day. Pull up one of those massage videos on youtube and emulate the massage therapist right from the comfort of your home / bedroom. Get some aromatherapy going with candles and cue up some romantic tunes with help from Alexa.
Bonus: If you have one of those 3-d printing classes in your area, that'd be a cool valentine's date!
Material Things:
1. Games – If your guy is a gamer, go ahead and run over to the nearest game stop and pick up the latest / hottest game on the market. I know, you wish you could throw the damn console out the window given how much time he spends on there, but by buying him a game it's a way of acknowledging that you care about his happiness and his hobbies. And maybe you won't hate it so much if you just sat down and played with him.
2. Sneakers / Shoes – Men love a good pair of kicks. I would recommend getting a matching pair of fresh white adidas, or converse, or nike's.
3. Chocolate / Candy – Men also have a sweet tooth too. Get him a box with a variety of chocolates and sample all the different fillings together. Win-win.
4. A Good Book – Thank God for brick and mortar book stores. If you are in need of a last minute gift, run into Barnes and Nobles and head straight to the comedy aisle. You can't go wrong with comedy, but if your guys is really into a particular subject you could also pick out a best seller in the category and voila! Instant thoughtful gift.
5. Wine – Pick up a bottle of his favorite wine or liquor and sip it together on the couch. You'll be buzzed, he'll be buzzed, and you'll have a great valentine's night.
Bonus – A card with a heartfelt message never hurt no one.
If you've already got something planned, share the deets below and help your sistahs out!
Cute song, even cuter video featuring young interracial crushing. Bump it on your Sunday morning cleaning spree!
Break out your tissues! The Netflix original film, Irreplaceable You, is coming to your screen Feb 16th, 2018
Synopsis: A stunning cancer diagnosis spurs Abbie to seek a future girlfriend for fiancé and childhood sweetheart Sam, who's clueless when it comes to dating.
Starring: 
Gugu Mbatha-Raw, Michiel Huisman, Christopher Walken
I don't know about you, but I would not be spending my dying days trying to find my man another woman. But the premise is cute and it seems like it'll actually focus on their relationship / she comes to her senses by the end of the movie.
Will you be watching?
I have heard countless Black women cite choosing to date outside of their race partially because black men are cheaters.
I've also heard the argument made, usually to those women by bm-identified black women and black men, that actually, White men are the biggest cheaters.
So who's right and who's wrong?
Luckily, someone did a scientific study!
General Social Survey(GSS) collected some data and has the answer to the hotly debated question of who cheats more?
Now, thanks to the data, we know that men cheat more than women: 20% of men and 13% of women reported that they've had sex with someone other than their spouse while married.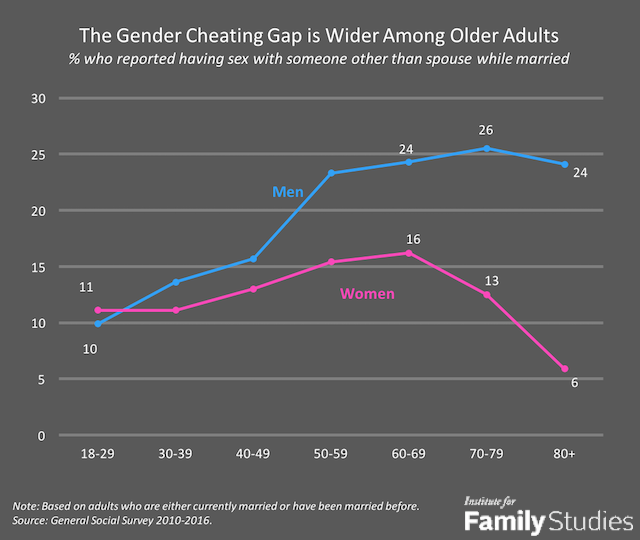 We can also clearly see that as men get older they are more likely to cheat, while women are less likely to cheat as they get older.
Interestingly, women are only slightly more likely to cheat than men (by 1%) when thy are in the 18-29 year old category.
But what about when we look at cheating by demographics such as race?
Which type of man is the worst when it comes to fidelity and honoring the sanctity of marriage? White men, Asian men, Hispanic men?
DRUMROLL PLEASE….
According to the stats, the winner goes to Black men (22%) –  White men came in at 16%, and Hispanic men at 13%.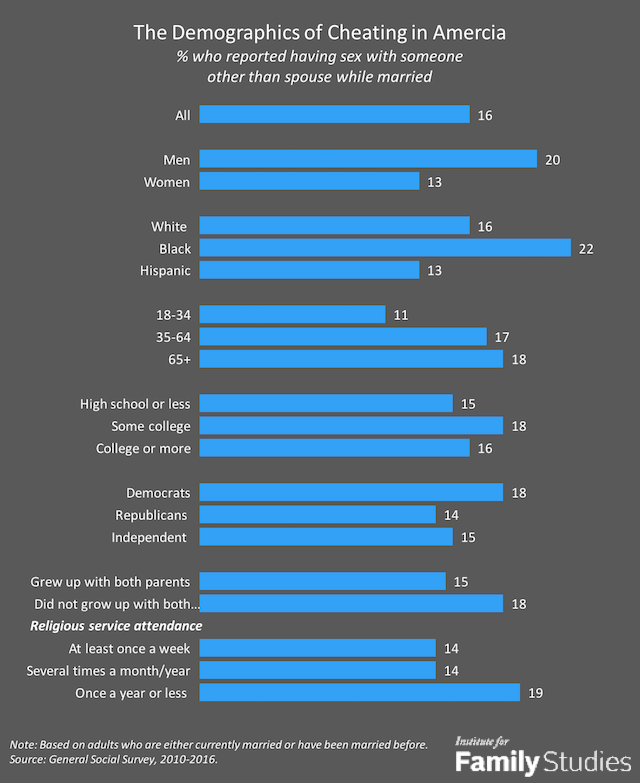 Look, no one is saying White men are saints. I mean, we've all heard about the countless scandals of successful White business owners, politicians, and celebrities, (ahem, Donald Trump and Bill Clinton) stepping out on their women.
But married Black men win at the cheating game.
Then we have to bear in mind that the number of black men getting married to begin with is a lot less than other races of men, so who knows how many of those guys are cheating on their girlfriends.
One can only assume if they step out on their WIVES more than other men that their girlfriends won't get treated any better.
What do you guys think? Sound off below!
I don't have HBO because I don't care for any of the shows (Insecure included. Sorry, Issa, but it's just too ratchet for my taste… and where's White Jay?).
Thankfully, HBO knows all black women aren't the same and has allowed two other black women, Jessica Williams & Phoebe Robinson ( AKA Two Dope Queens) to get the spotlight on their platform.
I haven't seen the show, which airs Fridays at 11:30pm – but apparently you can watch the first episode for free here – https://www.hbo.com/specials/2-dope-queens
However, I have seen a clip where one of the queens was talking about being in an interracial relationship with her "white bae" and him complimenting her edges. Funnily enough, I have learned that both dope queens have been with White bae's. The fact that they talk about this in their books, podcasts, interviews, etc. is a great thing because they are mainstream and it just lets WM know regular BW are open… and open more regular BW's eyes to the idea.